Reusable Gel Ice Packs – The perfect and hygienic solution to keep products cool during transit!
Date Posted:5 April 2017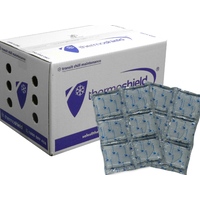 Are you looking for a way to transport fish, meat, dairy, produce, pharmaceuticals, food, flowers and perishable products in a safe, hygienic and temperature controlled condition?
The Thermoshield gel ice pack is the ideal solution to keep chilled or frozen food products cool throughout every stage of transit, to guarantee they reach their destination in pristine condition.
The unique gel formula is food safe and USFDA approved, and stays frozen a longer than standard ice. The segmented design of the pack means it's still flexible when frozen, and the super-tough seals reduce any risk of contamination.
The innovative Thermoshield Gel Ice Pack products are hygienic, mess-free, well presented ice replacement packs on the market.
How is the Thermoshield ice pack cost efficient?
Thermoshield gel ice packs are reusable, they can be refrozen and reused multiple times without any impact on the performance of the ice pack. This means our clients can achieve additional savings if they can reclaim and clean the ice packs after each use. Thermoshield gel based ice packs are versatile and flexible to use, even when frozen. These flexible ice packs work like an ice blanket, and can be used to wrap around food, bottles and other perishable products to ensure products are totally insulated and covered to stay chilled for longer.
Whether you deal in seafood, meat, or produce products, the Thermoshield reusable ice packs are the perfect choice to keep the temperature at the optimum level during transport, right to their destination.
Thermoshield Gel Ice Packs have proven to be consistently reliable and cost effective for many Australian clients:
Packed ready to use
Excellent value for money
Reusable, can be refrozen multiple times
Flexible when frozen, segmented packs provide blanket chill
Effective and hassle free packaging, no dipping preparation required
Leak-proof - No risk of water/ice contamination
Protects chilled products against unexpected delays in transit times
Non-toxic gel and USFDA approved for food safety
Applications for Thermoshield reusable gel ice packs
Thermoshield reusable ice packs can be used in various applications when transporting products using air freight, sea freight, or road freight services:
Ice packs for fresh produce
Ice packs for food products
Ice packs for dairy products
Ice packs for seafood, fish, and meat products
Ice packs for airfreight
These flexible freezer ice packs are manufactured and delivered Australia wide including Melbourne, Sydney, Brisbane, Perth, Adelaide, Darwin and Tasmania. Ice Packs are available in different sizes and weights. Thermoshield also has the capability to manufacture customized sized ice packs, or custom printed ice packs.
Call Thermoshield today to discuss your specific requirements on 1800 089 456, or email sales@thermoshieldproducts.com.au.
---
Leave a comment